Thursday, May 26, 2011 @ 9:15 AM


YO guys, my first 2011 post after 8 months. Just wanna THANK GOD for giving me this opportunity to study hard again after my SC. I have few points i wanna mention:




I'm studying in Taylors University lakeside campus, taking D.I.B (Diploma in business) Course. NOW its up to me to achieve my goals. SO far im enjoying myself, nice campus, nice facilities, nice classrooms. But the annoying this is, finding carparks. Its a fcking nightmare. So like if i have class at 10am, i have to leave my house at 7am. I have cool/funny friends and thats no doubt about it.


I REALLY miss my AISM friends, i felt very bad after leaving but its a good thing i guess and i'll always visit them every semester.


I CAN DRIVE YAY! After 2 months of practices.


I have a new car! Perodua Myvi SE (Sport Edition).


I inteded to find a part time job but because i was without courage and determination. SO i couldnt do it.


Im reading John Maxwell's book (Talent not enough). Let me tell you this book, he encourage everyone to work hard in their lives. Its all about determination, perseverance, courages and etc..he also talk about his adventures and his experiences when he was writting this book while he was travelling. If you have talent and without determination, perserverance and so on, you wont succeed in your life. And the most important quotes i know as far as im concern, "Beliefs determine expectations, Expectations determine Actions, Actions determine result." I super love this quote. So i encourage everyone read this book.



Hmm, i think thats all i wanna say. I think i'll probably write next year. LOL Maybe.
ciao





End Of my writing






Sunday, November 21, 2010 @ 2:31 PM

Goodluck


This post would be my 195th post! WOO

My aim is to get 200 posts if possible. -.-

My work experience is tomorrow and in the same time goodluck to those SPM-ers and SMK 1 peeps. Dont stress out like i did =.=

For my work experience, I'll be working with my dad in Nestle along with Victoria Yeoh my good friend =)

I'll be working for a week = o ohh dear

I work not just for fun, it is part of my school assessment in order to enter year 11.

So I'll be graduating in a week time, I CAN'T WAIT! I cant wait to wear my formal clothes *Showing off* XD haha

I gathered tons of clubbing songs so i hope during that night everyone would love it. XD haha

sien, holiday is coming. I have nothing better to do at home everyday since i finished my SC. I want to take MY Driving license! But I scared to go alone. =( Useless me =P

ok i better stop writing! bye




End of Post






Wednesday, November 17, 2010 @ 10:07 PM

Is it over?


So I finally finished my SC. I thought i did very badly especially English. Others were okay. There will be limited chances for me to go college. I have no idea what im gonna do next. English really pissed me off...FCKING POEM. WHO THE FCK IS PAPA??! And freaking essays. The multiple choices always have similar answers. I had hard time doing that as well. =.=

What to do with my life? I studied almost 6 hours a day and i still cant do well. My brain is fcked. I HATE MYSELF! I HATE MYSELF!!! TT

All my friends looked down at me all the time. All the girls think I'm immature in class. I tried to change! Hopefully u guys can look into me further/know me well. Or I am completely hopeless.

Im stressed out! I AM! I am scared of my SC's results!

I ain't wanna my parents to be disappointed at me again! Especially my grandma. I really want her to be healthy as ever! Im not that kind of person that hurts everyone feelings. I never intended to do so.

Ohh...i had mentioned to talk about my vietnam trip after my SC? Screw that...nothing much. It was an emotional trip.




End of my writing




* Hands off keyboard *






Wednesday, August 25, 2010 @ 5:18 PM

BYe Bye


I haven't been writing for like 5 or 6 months? Since March. Gosh o.o
Anyway, I just came back from Vietnam 6 days ago, bought TONS of stuff/souvenir. well....some memorable night and unforgettable days for me. So i can say between those 2

SAD & HAPPY

. Lazy to analyse everything i've done there, but i will if i have time.

Here are some photos: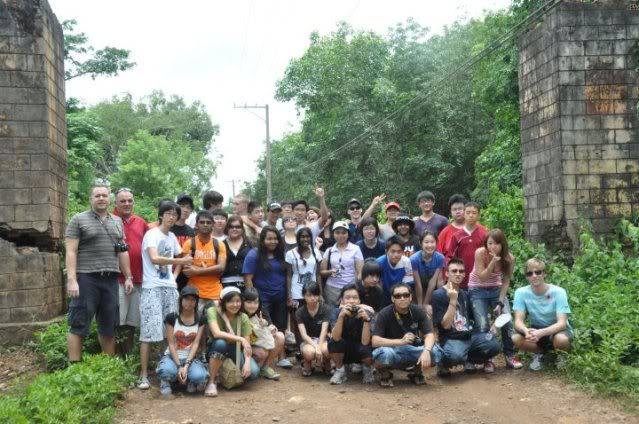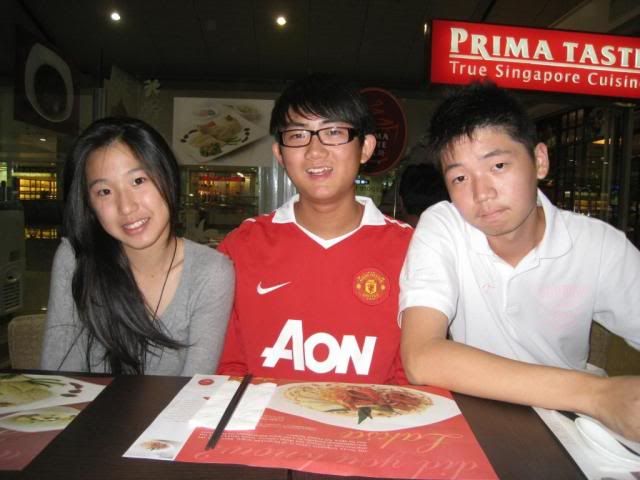 The NSW School Certificate is not getting any further, so i wish/HOPEFULLY i will do well on it. Its extremely important for my up coming future. Total 5 subjects: Science, English, Math, History, Geography. The test will finish within 2 days i think. URGHH!! I hate English, GEO, Math!!
English: Its not some kind of ordinary English like government school. Much more advance than that, plus, my English is not "that" well.
Geo: I dont know any shit about GEO. lol Well, much more to study before trial.
Math: Im okay with it if i spend a big amount of quantity time on it then I'll be able to do well.
This is really not helping at all!! I still have tons of Projects to do before trial. WTF. I need to study!
Maybe i will write after SC? Maybe? Don't know? Or quit? haha
Wish me luck and CIAO!



Saturday, March 27, 2010 @ 4:05 PM
Earth Hour
It has been a year since
Kar Mern
had her 16th birthday party. Well she is not going to throw another party this year. Too bad i can't enjoy like last year. Her party was during Earth hour, so my friends and I walked for the whole hour around her residential area. Earth hour will be held every year at 8.30pm in the 27th of March. Almost everyone in Puchong participated last year. I was quite impress/surprise.
But some people don't do what they should have done in the first place
Anyway, all i'm gonna to say is to take part for the WWF.
visit http://www.earthhour.org/
Labels: SUPPORT
Wednesday, March 17, 2010 @ 5:09 PM
Soccer Tournament in Tenby 2010
The soccer match was horrible.
The tournament was held in Tenby international school in shah alam.
Basically, we were kinda outnumbered. 11 a side but we had 14 players. Which was good for me cos i got to play more often :D
But too bad I SUCKED! I suffered from lack of air to breath. I tried my best to defend properly but i was lack of energy so i can't run lol The coach should train us more often instead of playing normal game. WE need a good formation!
I
LIKE
HATE
being a DEFENDER! I was marking 2 players wtf -.- The centre defender didnt do anything. And i
HATE
people dribble me. It was very embarrassing lol
Hin Yaw and XL played well. Congratz to them
I think overall, Tenby played the best football among all the teams.
In TOTAL: We scored 2 goals and conceded 5 goals at least. SAD
In the afternoon, we got an hour break time so HY BELANJA XL and me MCDONALD :D TY
we ate in the car while watching KungFu Hustle.
For the last game, we were suppose to fight for 4th place but we failed. :(
GIS (Garden school) played so rough/tough wtf..
got this big/huge guy pushed me down and the NOOB ref didnt see. wtf -.-
he looked older than me -.- it was suppose to be Under 17 years old tournament.
anyway, i appreciated that the coach put me on for almost every matches. And all i need is to IMPROVE my skills and control the ball.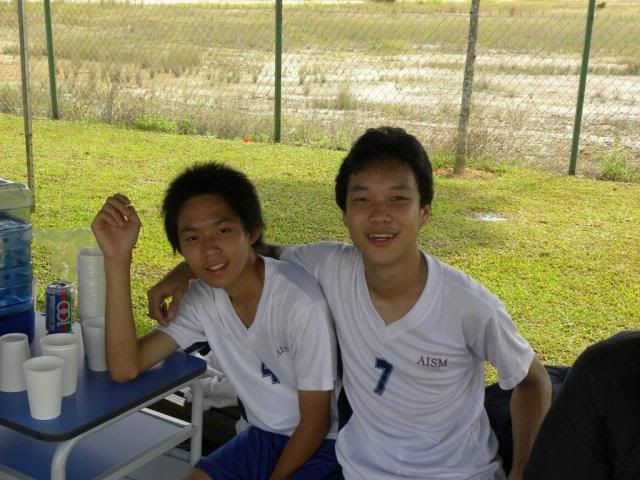 Mr.Thorpe my coach and a SWEARING KING lol